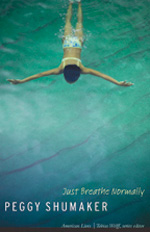 Just Breathe Normally
The American Lives Series
(memoir)
University of Nebraska Press
2009, paperback, 280 pages
ISBN 978-0-8032-2641-8
List Price: $14.95
Hardcover, 2007, 278 pages
ISBN: 978-0-8032-1095-0
List Price: $25.95
View the Digital Media Kit for Just Breathe Normally created by the University of Nebraska Press (pdf file).
- Purchase at Powell's
- Purchase at Changing Hands
- Purchase at Amazon
- Purchase at U Nebraska
JUST BREATHE NORMALLY
In the wake of her near-fatal cycling collision, Peggy Shumaker searches for meaning within extremity. Through a long convalescence, she reevaluates her family's past, treating us to a meditation on the meaning of justice and the role of love in the grueling process of healing. Her book, a moving memoir of childhood and family, testifies to the power of collective empathy in the transformations that make and remake us throughout our lives.
We all live with injury and loss. This book transforms injury, transforms loss. We see in practice the power of words to restore what medical science cannot: the fragile human psyche and its immense capacity for forgiveness.
PRAISE FOR THE BOOK
Shumaker displays a rare gift.... [H]er scattered memories come together to form a riveting and exceptionally touching story.... An entrancing meditation on absolution and memory.
—Kirkus Reviews
Painful healing from a freak bicycle accident burns at the heart of this collection of lyrical anecdotes.... Shumaker's prose possesses throughout a limpid serenity.
—Publishers Weekly
Just Breathe Normally is very much a poet's memoir.... This is a western book not merely because so much of it takes place in the West (principally Arizona and Alaska) but also because it is deeply informed by a sense of place.
—Western American Literature
Alternating the account of a tragic accident with fragments of memoir, Just Breathe Normally is a form of reconstruction. The resulting fusion is a remarkable tribute to the indomitable will to live and love. As memory bubbles up through a mind shaken loose from its linear clock, Peggy Shumaker shows us the route to compassion through the compressed power of language to open new worlds. If this book were poker, it would see your life and raise you one.
—Judith Kitchen, author of Distance and Direction and editor of Short Takes: Brief Encounters with Contemporary Nonfiction
Here's the truth of a single life presented in scenes so lyric, so honest, so encompassing, that in reading Just Breathe Normally I felt guided into wakefulness. Peggy Shumaker has rendered a masterpiece. This is the finest memoir I've read in years.
—Mark Spragg, author of An Unfinished Life and Bone Fire
Shumaker, a poet, has a haunting, lyrical quality to her writing. The words flow and tumble down the page.... Reading about pain and loss and fear can be almost as traumatic as experiencing it, and while Shumaker doesn't dance around it, she writes in such a way that the reader is compelled to follow.... Just Breathe Normally is a deft example of using the past to understand and overcome the present.
—Libbie Martin, Fairbanks Daily News-Miner
With Just Breathe Normally, Peggy Shumaker has crafted an unforgettable, transcendent memoir. Full of heartbreaking loss, searing insights, and language both sensual and profound, Shumaker has given us the rarest of gifts: one that not only entertains, but instructs, reminding us that forgiveness isn't something that randomly happens to us, but is painstakingly achieved with diligence, patience, and love.
—Michele Poulos, Blackbird (read entire review)
Just Breathe Normally is an ode to family, to the power of past and the future, worth reading and savoring, like those moments in life that may mean little at the time, but upon reflection, make up the very air we breathe.
—Marcia Herring, Big Muddy: A Journal of the Mississippi River Valley
A captivating and lyrical memoir.
—Amy Halloran, themillions.com
Through her own struggle to heal—emotionally as well as physically—the reader is compelled to undertake the same journey.
—Duncan R. Jamieson, Aethlon: The Journal of Sport Literature
[Shumaker's] poetry background is evident in every carefully sculpted sentence of her memoir, Just Breathe Normally. This book is more than just pretty prose, though. It's a gripping account of one woman's struggle through a potentially life-ending accident and through her chaotic childhood.... Just Breathe Normally is what a book should be: moving and multi-layered. There is a surprise in the ending, which I won't ruin, but after knowing it, the previous passages become even more interesting. Pick up Just Breathe Normally, it just might change the way you breathe, and think.
—Paula Younger, NewWest.net
This is a book I will read again and again to decipher how Shumaker makes her magic happen.
—Barbara Lloyd McMichael, Bellingham Herald
Full of heart and growth, Just Breathe Normally is a must-read memoir for anyone who has ever had to piece together the shards of a life she was on the verge of losing, and for anyone who ever had a second chance to come to terms with her personal history.
—Theodora Guliadis, Book Corner
B. Morrison discusses Just Breathe Normally: visit blog
FROM THE BOOK
Moving Water, Tucson
Thunderclouds gathered every afternoon during the monsoons. Warm rain felt good on faces lifted to lick water from the sky. We played outside, having sense enough to go out and revel in the rain. We savored the first cool hours since summer hit.

The arroyo behind our house trickled with moving water. Kids gathered to see what it might bring. Tumbleweed, spears of ocotillo, creosote, a doll's arm, some kid's fort. Broken bottles, a red sweater. Whatever was nailed down, torn loose.

We stood on edges of sand, waiting for brown walls of water. We could hear it, massive water, not far off. The whole desert might come apart at once, might send horny toads and Gila monsters swirling, wet nightmares clawing both banks of the worst they could imagine and then some.

Under sheet lightning cracking the sky, somebody's teenaged brother decided to ride the flash flood. He stood on wood in the bottom of the ditch, straddling the puny stream. "Get out, it's coming," kids yelled. "GET OUT," we yelled. The kid bent his knees, held out his arms.

Land turned liquid that fast, water yanked our feet, stole our thongs, pulled in the edges of the arroyo, dragged whole trees root wads and all along, battering rams thrust downstream, anything you left there gone, anything you meant to go back and get, history, water so high you couldn't touch bottom, water so fast you couldn't get out of it, water so huge the earth couldn't take it, water. We couldn't step back. We had to be there, to see for ourselves. Water in a place where water's always holy. Water remaking the world.

That kid on plywood, that kid waiting for the flood. He stood and the water lifted him. He stood, his eyes not seeing us. For a moment, we all wanted to be him, to be part of something so wet, so fast, so powerful, so much bigger than ourselves. That kid rode the flash flood inside us, the flash flood outside us. Artist unglued on a scrap of glued wood. For a few drenched seconds, he rode. The water took him, faster than you can believe. He kept his head up. Water you couldn't see through, water half dirt, water whirling hard. Heavy rain weighed down our clothes. We stepped closer to the crumbling shore, saw him downstream smash against the footbridge at the end of the block. Water held him there, rushing on.
November, Día de los Muertos, Whidbey Island
To celebrate that we are not among them, we choose Day of the Dead for our first post-wreck ride. We air up the tires, strap on our helmets, take deep breaths. Balance is still tricky. I can't quite tell what's flat and what's not, can't quite tell when my foot will touch ground. Extra dark sunglasses give my eye a break—when one pupil doesn't react, sunshine hurts.

I force out of my mind visions of falling, visions of me and the bike tangled in blackberry brambles, visions of cars swerving but not missing. Every muscle in my body is on alert. It's as if I have to give orders for each motion.

The focus this morning reminds me of the day I got glasses, after a childhood of seeing blurry. Each blade of grass stands out, distinct. Each chip of gravel, each glint of glass. To mount, I lean my bike so far over the pedal touches. Joe holds me steady while I balance on one foot. My right leg, the hurt leg, clears the hurdle, fishes a moment in midair, finds the pedal. I straighten, balance, breathe.

I look both ways, outside, inside. We push off, wobbly, into the rest of our lives.

*
You may download a longer excerpt from U. Nebraska: download Just Breathe Normally excerpt (pdf file)
- back to top -









CHAPBOOKS:
ANTHOLOGIES: