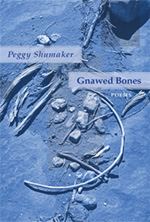 Gnawed Bones (poems)
Red Hen Press, 2010
Paperback, 120 pages
ISBN-13: 978-1597091565
List Price: $19.95
Get the digital E Press Kit & Study Guide from Red Hen Press (pdf file)
- Purchase at Changing Hands
- Purchase at Amazon
- Purchase at Red Hen
GNAWED BONES
PRAISE FOR THE BOOK
Peggy Shumaker's sixth full-length collection, Gnawed Bones, is perhaps her finest. Shumaker ... covers a wide range—but she casts a far more personal eye, worrying at the puzzle of human relationships as well as human connection to the land itself.
—Judith Kitchen, The Georgia Review
... poems like "Gnawed Bones" posit the natural world as humankind's most fundamental origin, the source of literary invention as well as personal loss. ... desolate landscapes and sweeping vistas initiate the full range of human experience, which in turn gives way to artistic expression. Gnawed Bones is distinguished by its attempts to situate even everyday speech within the harmonious ebb and flow of the natural world.

—Kristina Marie Darling, The Gettysburg Review

Shumaker uses words like an artist uses paint. Color, meaning, innuendo and exclamation mingle, creating new colors, new nuances, new ways of seeing familiar objects. And her juxtapositions ... are extraordinary.
—Libbie Martin, The Fairbanks Daily News-Miner (read entire review)
Her newest collection, Gnawed Bones, is infused with her generosity and a tenderness that is all-encompassing. Shumaker's vision casts a wide net—Alaska, Hawaii, the past, the present, art, wildfire, death—nothing is excluded.... The grace that is so much Peggy Shumaker's hallmark is the keystone of the collection. It is like having a tour guide who sees the world with eyes that cherish. Even pain, even sorrow is luminous when held up to the light of Peggy's eyes.
—Erin Hollowell, Being Poetry, April 25, 2010 (read entire entry)
Good heavens, what a book. No, rather good earth, good sad mortal body, what a book. Shumaker writes without blame, but with utter clarity and precision and story-telling skill about places on earth and our place among them—Alaska, Hawaii, the saguaro-studded desert—and about foxes, deer, swallows, who co-inhabit with us "under a sun / more agitated / this year than the last," then about the father who wanted to fly, the mother who wanted to die. Finally she comes to her own brush with death. I couldn't stop reading, sometimes weeping, always awed. Whatever Shumaker touches is thick with life, death, and the blessing of her words.
—Alicia Ostriker
FROM THE BOOK
Long Before We Got Here, Long After We're Gone
In the season blue-white sun
barely lifts above the ridge,
limps along the horizon
then dives out of sight,
we're changed each day by light.

Someone who's gone before
broke trail, set tracks.
With the right kick wax,
we make our way among birch
breathing hard rare frosted light.

We make of light arpeggio crystals,
caribou dance fans, shush
of bristles. One moment made
alive, human, unafraid.
All that's lost not gone.









CHAPBOOKS:
ANTHOLOGIES: